Faculty Member in Journalism and Media Studies Roger Cohen RC'65, 1943-2022
He is remembered at SC&I for his infectious laughter, propensity to sing along, and great voice on the radio, as he is for being a much-loved longtime faculty member, colleague, and mentor. for countless students and alumni. , in particular journalists, who have sought his opinions and advice.
Roger Cohen RC'65, Distinguished Faculty Member of the Department of Journalism and Media Studies, died on July 18, 2022 at age 79, leaving behind his family, including his wife Debbie (they had been married for 54 years); the children Jonathan and Joanna; daughter-in-law Miroslawa Jablsonski-Cohen; son-in-law Robert Butler; and five grandchildren: Stephanie, Sarah, Matthew, Radek and Jonah.
In addition to his family, Cohen also leaves behind many former and current SC&I and Rutgers colleagues and alumni who were his close friends and will mourn his loss deeply.
Professor of Professional Practice and Director of the Undergraduate Program in Journalism and Media Studies, Steve Miller said:There are no words to adequately describe what Roger Cohen meant to the Department of Journalism and Media Studies, to the School of Communication and Information, to Rutgers University, and to the thousands of students whose lives he touched.
According to his obituary, Cohen, who was born in Paterson, NJ, earned his bachelor's degree in English from Rutgers College in 1965. His professional career at Rutgers University-New Brunswick and SC&I spanned 34 years, beginning in 1969 when he was returned to banking shortly after earning a master's degree from Syracuse University. He retired from SC&I in 2003.
His first job at Rutgers was in the Office of Television and Radio where he worked as coordinator of radio and television for the university.
He joined the Rutgers faculty in 1976, when the Department of Journalism and Urban Communications was established at Livingston College. There he developed and taught courses in broadcast news writing, radio production and television programming.
As part of an early 1980s reorganization of the entire Rutgers-New Brunswick campus, the School of Communication, Information and Library Science (SCILS) (now the School of Communication and Information ) was created in 1982 by the merger of three units, including the Department of Journalism and Urban Communications. Soon after, the department became the Department of Journalism and Mass Media. During Cohen's years on the faculty, he served as both a tenured faculty member and, for several years, department chair.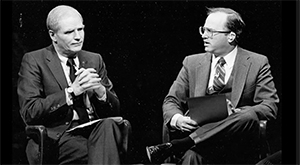 Cohen also contributed to the university in many other significant ways. He was the first on-air game announcer for Rutgers Basketball. He was the moderator of "The Rutgers Forum", a public affairs program on WABC channel 7 and WNET channel 13. The highlight of that role for him, his family wrote, was moderating the programme's 1,500th broadcast, when he interviewed the four new living Governors of Jersey. In 2013, Cohen received the Livingston Legacy Award from the Livingston Alumni Association.
His favorite part of his role at SC&I, his family wrote, was the time he spent teaching and mentoring students, some of whom he remained in contact with throughout his life.
Among the tweets posted to the SC&I Twitter feed honoring Cohen and celebrating his life include:
Forgotten Champions (@ForgottenChamp1), the oRutgers 1982 AIAW Women's Basketball Championship documentary official Twitter accounttweeted: "As @RAANew Brunswick members, @WRSU alums and former students of Roger, the producers of our film also offer you our most sincere condolences. While putting the film together, we came across some of Roger's work, and we share it here. May Roger's memory be a blessing! (Editor's note: the video is also posted below).
Rutgers Scarlet Knights (@RUAthletics), tweeted: "We mourn the loss of retired Rutgers faculty member Roger Cohen who served as a basketball PA announcer for many years."
Alumnus Mike Barber 'JMS01, a beaten Atlantic Coast Conference (ACC) writer for the Richmond Times Dispatch, tweeted: "It is with sadness that I learn of the death of my former @RutgersCommInfo Professor Roger Cohen. He was the intersection of journalism and athletics for me – and for so many others in RU – and I wouldn't be where I am today without him…"
The Rutgers Alumni Association tweeted: "Rutgers College graduate, Loyal Son Award recipient, Livingston Alumni Association Legacy Award recipient and @RutgersCommInfo An award for excellence in journalism and media studies, Roger's imprint on Rutgers will be felt for decades. Fond memories and expressions of sympathy can be shared at bloomfieldcoopermanalapan.com for her family. #ScarletForever."
"Hard to believe Roger retired in 2003. I loved his voice at the RAC. Great teacher, mentor, teacher and a great man," said Central Jersey Sports Radio @CJSportsRadio.
@WRSU, the Rutgers University radio station posted: "Our deepest condolences to the family of longtime Roger Cohen @RutgersU teacher at @RutgersCommInfomentor to so many journalists, board member of WRSU radio, voice of PA @RutgersMBB and @RutgersWBB, and more. Roger, we will miss you! @WRSUsports.
Mike Pavlichko, who is WRSU's broadcast administrator and part-time lecturer at SC&I, is one of Cohen's former students.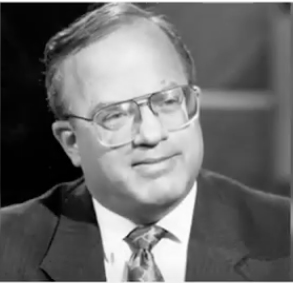 Professor of Journalism and Media Studies, John V. Pavlik, said:Roger provided so many years of wonderful leadership to the department. And he was an inspiration to all of us. Roger will be greatly missed.
Emeritus Professor of Library and Information Science, James Anderson, wrote, "Roger…was so good at bringing joy and good news into all of our lives."
More information about Cohen can be found in his obituary.
Learn more about the Journalism and Media Studies department at the School of Communication and Information on the website.
Photos by Cohen courtesy of the Livingston Legacy Award video created by the Livingston Alumni Association.
Pictured (middle photo): Roger Cohen interviewing Brendan T. Byrne, former Governor of New Jersey.
Video by Forgotten Champions (@ForgottenChamp1), the oOfficial Twitter account for the Rutgers 1982 AIAW Women's Basketball Championship documentary.