Remembering Michelle Materre, Associate Professor of Media and Film Studies
Remembering Michelle Materre, Associate Professor of Media and Film Studies
We mourn the passing of Michelle Materre, distinguished member of The New School community, associate professor of media and film. Michelle will be remembered as a tireless advocate and champion of films by and about women and people of color, a beloved teacher, an engaged university citizen, and a cherished colleague. However, no list of accomplishments or accolades can fully capture how special she was to the countless students, colleagues and collaborators lucky enough to have been drawn into her circle. She was known for her generous and exuberant presence, bringing joy to everything she did. His absence will be deeply felt, but his immense impact and legacy will live and remain with us.
Materre has had a significant and expansive impact on the university over two decades. She recently taught her signature classes Race, ethnicity and class in the media and Distribution of films and new media, following two decades of other impactful courses. She held the position of Director of media management program, associate professor of media and film studies, and served as director of creative strategies at the Institute for Race, Power and Political Economy. Previously, she served as Director and Senior Faculty Advisor at License Program for Adults and Transfer Students. Materre received the Distinguished Teaching Award from The New School in 2005 for his outstanding teaching and guidance.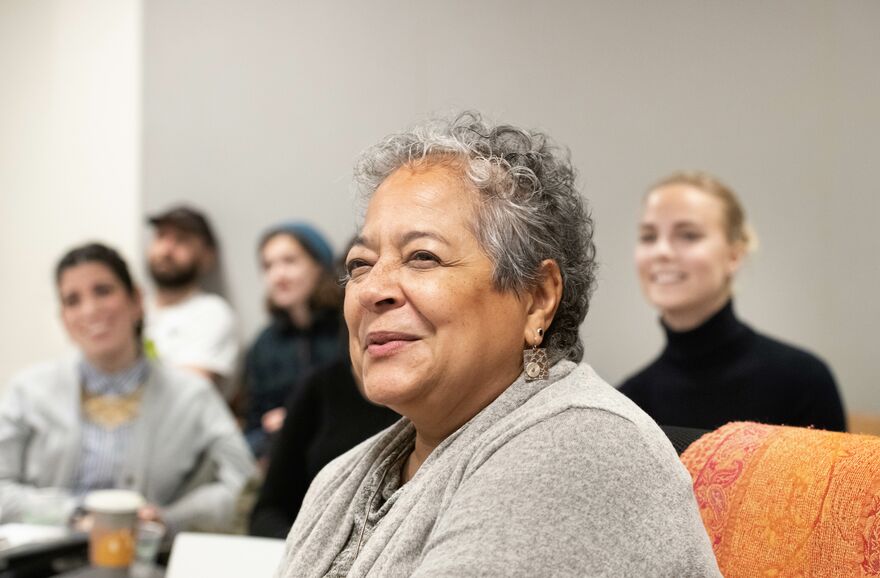 speak creatively, a film series founded by Materre more than 25 years ago, continues to be a leading forum highlighting independent films by and about women and people of color, featuring film screenings, conversations and other events. Materre won the Film Heritage Award, presented by the National Society of Film Criticsin 2015 for Tell It Like it Is: Black Independents in New York, 1968-1986, a film series she created with the Film Society of Lincoln Center, and in 2017 for the film series One Way or Another: Black Filmmakers 1970–1991, co-organized with BAMcinématek. Materre was co-producer of the critically acclaimed documentary black women in medicine, directed by Crystal Emery, and as the film's outreach and educational distribution coordinator. Early in his career, Materre was a founding partner of KJM3 Entertainment Group, Inc., a film distribution and marketing company specializing in positioning and marketing multicultural film and television projects, including acclaimed works like Daughters of Dust, directed by Julie Dash, and The man on the docks (The man from the shore), directed by Raoul Peck.
"Michelle and her legacy are emblematic of The New School – focused racial justice, positive energy to shape the future, and a tireless belief in the power of community. She was deeply loved. Mary Watson, Executive Dean of Schools of Public Engagement.
"A generous and dear friend, a beloved teacher, a cherished colleague and a passionate champion of important films by and about women and people of color – Michelle was all of this and more. She was cheerful, frank, direct and could put everyone at ease instantly. Words are limited in their ability to capture all that has made Michelle so loved by so many of her students and peers. His absence will be deeply felt, but his immense impact and legacy will live and stay with us, along with the memories, for as long as we are here. Vladan Nikolic, Dean, School of Media Studies.
"Michelle Materre was a champion for Black, Indigenous and People of Color voices in the arts and academia. She made steady and concerted efforts to create a community for me with the New School faculty of color and I will never forget her kind and generous spirit. Anthony D. Meyers, MS Organizational Change Management '20
"Michelle was not just a teacher, she was a mentor, a mother, a tutor, a counselor, and she helped me navigate life in America as an international student who developed to her full potential through to his guidance and nurturing approach. Sometimes all I needed was a hug from him as I walked past his office, to get the energy I needed to carry on. Jad-Évangelo Nasser, MA Media Studies '18
"In the spring of 2021, I took Michelle's Film Casting course and she quickly became my all-time favorite teacher. Her knowledge was deep and her spirit contagious. I am currently developing a film project thanks in large part to to his encouragement and support. Michelle was an important voice in both the film community and at The New School. She challenged the status quo and was an inspiration for change. Anyone who had the chance to meet Michelle has become a better storyteller and a better person Ken Kitch, MA Media Studies '22
"Although I never had the privilege of taking a class taught by the amazing Michelle Materre, she was always someone I looked up to during my time at The New School. As a student who dedicated her studies in media ethics, I admired Michelle's work through and through Emma Spagnuolo, MS Media Management '21